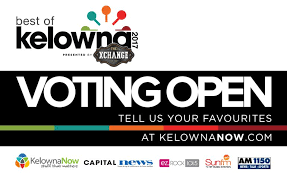 We are honoured to be nominated in the Kelowna Now Best of Kelowna 2017 – Electricians category, and would sincerely appreciate your vote! By spending a few minutes of your valuable time voting, you will have a hand in the continued success of your favourite businesses and organizations! If you are short on time, please note that you can vote in as few categories as you like – simply click and scroll through the sections until you are at the category that you would like to vote in (the option to click forward to the next category/step is found at the bottom of each page).
How To Vote:
Sign In With Your Facebook Account or Create/Login With A KelownaNow Account (you just need an email to create an account – don't worry, they won't send you anything ongoing unless you select "sign up for newsletter.")
Make your selections! You can skip right to page/step 5 where Best Electrician is located, or take your time and recognize other businesses and individuals.  Then just click & scroll through to the last page/section and click "Next Category" and it will take you to a page that says "Thank you for voting."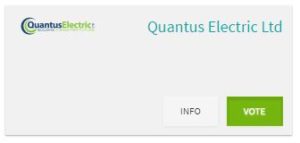 **Please note: voting closes on May 15, 2017 (Monday) at 3:00 pm**.
These awards are a wonderful opportunity to recognize outstanding, driven individuals, organizations and businesses in our community. We would like to congratulate the following such nominees:
Local Charity: Mamas for Mamas
Photographer: Shawn Talbot Photography
Electronics Store: Andres Electronics
Phone Repair Business: Kelowna Cell Repair
Event Rental: NorVal Rental
Ski and Snowboard Shop: ONE Boardshop
Caterer: Kirschner Catering
Favourite Male Athlete: Bruce Cook
Digital High Tech Company: GetintheLoop
THANK YOU from everyone at Quantus Electric!